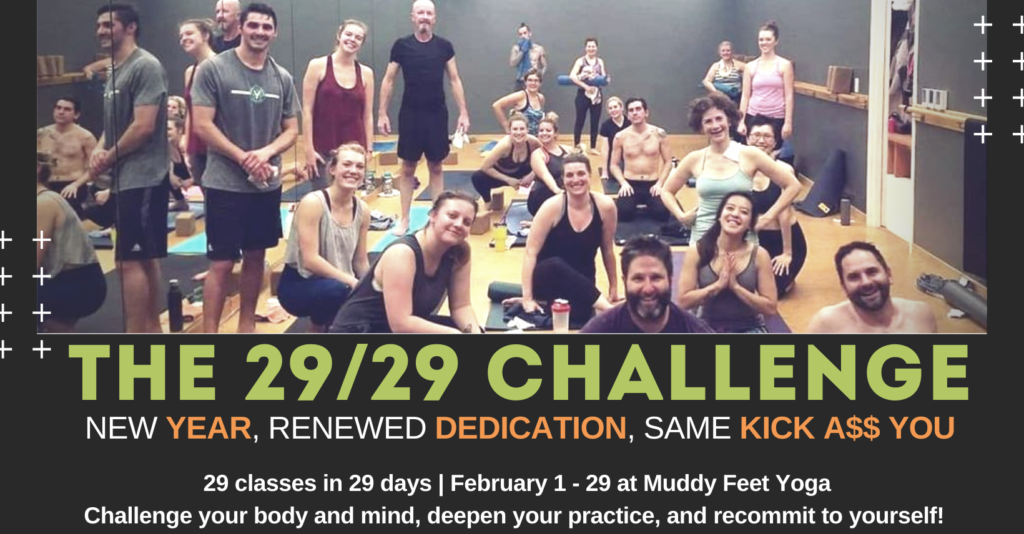 2020 is HERE, YOGIS!! We see many of you have already kicked your yoga practice into high gear, brought in new friends to the studio, and braved the already nasty roads. We've been so inspired by your dedication, that we decided to bring back a favorite from 2019… a February attendance challenge to help you keep your momentum going and to help us all connect in accountability, fun, and commitment to yourSELF.
You remember our lovely stamp board…. dontcha? 🙂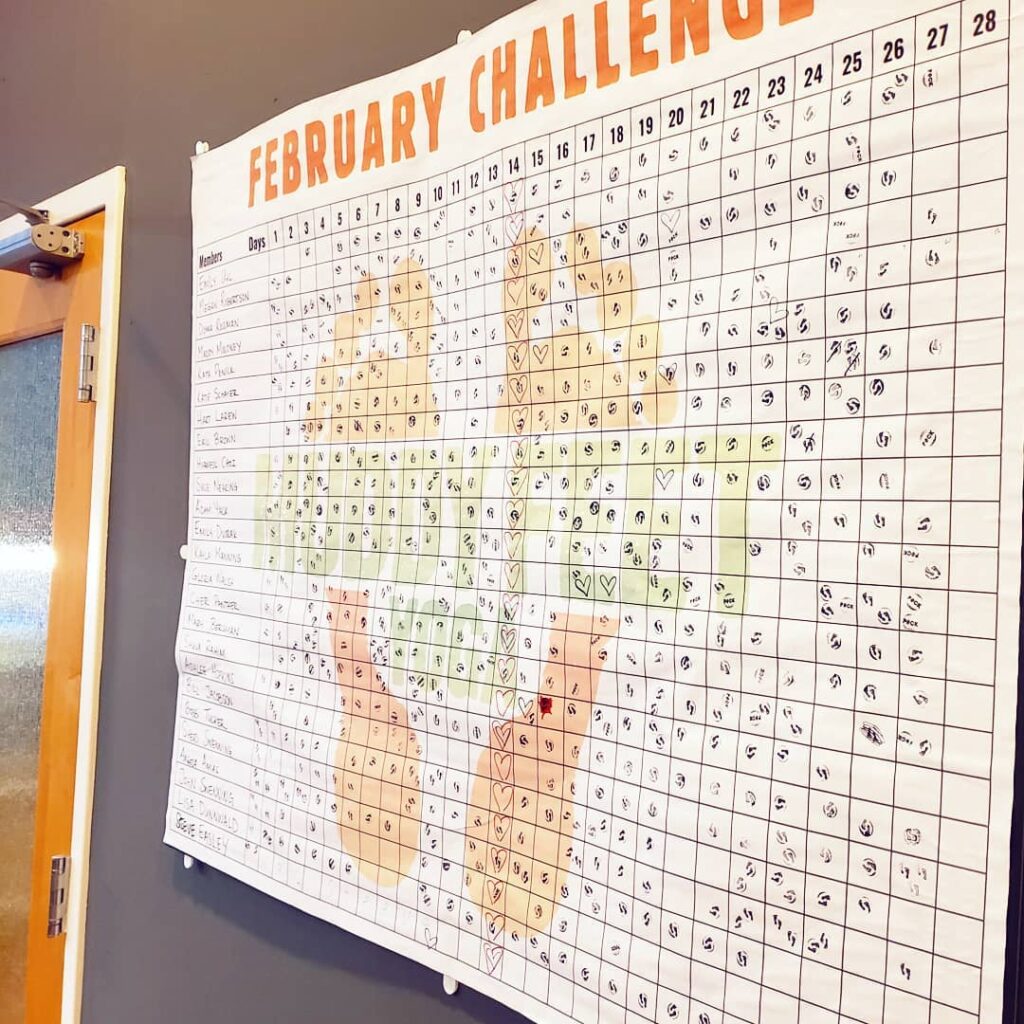 That's right! We're coming back atcha, this time with a LEAP year (so an extra day longer) to push you even further. We know you have it in you!
Let's break down this year's attendance challenge (and the dope prizes) down for ya…

---
The Rules
(there are only three!)
1.) 29 classes in 29 days
Wait, seriously? YES, seriously! Best results come from consistency. We talk a lot about the importance of "showing up" for yourself and your practice — and we mean it! When you show up for yourself on your mat you can show up for the world more fully off the mat.

Can I do multiple classes in one day? Yes! You are welcome to come to multiple classes in one day to count toward your 29 grand total. But, be careful and don't overdo it! Although this challenge is meant to, well, challenge you, we also want you to be safe. You are in charge of your own well-being. This is not about pushing yourself to a breaking point; rather finding a dedicated balance between push and pull, effort and ease. All classes (including Barre and Mat Pilates) count.

Note: Keep your eyes peeled for extra events that will count toward your 29, but not be based in movement. (Think Nidra, meditation, and other FUN stuff!)
2.) Throw $20 in the Pot
Each participant will pay a $20 entry fee* that will be used towards some majorly fun prizes, an end-of-challenge open house/celebration, and swag! Also, let's be real, there's nothing like cold, hard cash to boost your accountability. Don't throw your money away — EARN YOUR PRIZES!

3.) Love Your Fellow Yogi
We're in this together. Taking the time to build community, to get to know "your tribe," to really see your mat-mates and encourage their journey? That is everything. We will be opening a private FB group specifically for those participating in this challenge! We will encourage you to share your struggles, celebrate your victories, and get to know each other. We may even throw out some surprise "earn a free stamp" activities… yoga movie night, anyone? ?

---
Whatcha Get
(prize time!)
All participants will be invited to an open house/celebratory hang after the challenge has wrapped and a free Muddy Feet Yoga sticker (perfect for your water bottle, laptop, car window, little red wagon… whatever)!

For those that fully complete the challenge (receive their 29 stamps in the month of February) …

An awesome tank or t-shirt (your choice). You'll be a living, breathing example of #YogaEveryDamnDay! The top-secret designs (that's right, TWO options!) are still in the works, but we will be sharing them soon!
You'll also receive four raffle tickets to use at the wrap-up party to put towards winning one of the following:
60-Minute Private Yoga Session
(Instructor of your choice; Megan or Emily)
In-Class Private Assist
(Hands-on assists just for you for a whole class! Instructor/assistant of your choice)
One Month Unlimited Pass
5 Guest Passes
20% off a Ten-Class Pass
Only ONE winner will be drawn for each prize. You may choose to split your tickets between multiple choices or throw them all into your #1 choice! (You are also always welcome to gift your prize, should you win, to a friend/family member/another yogi.)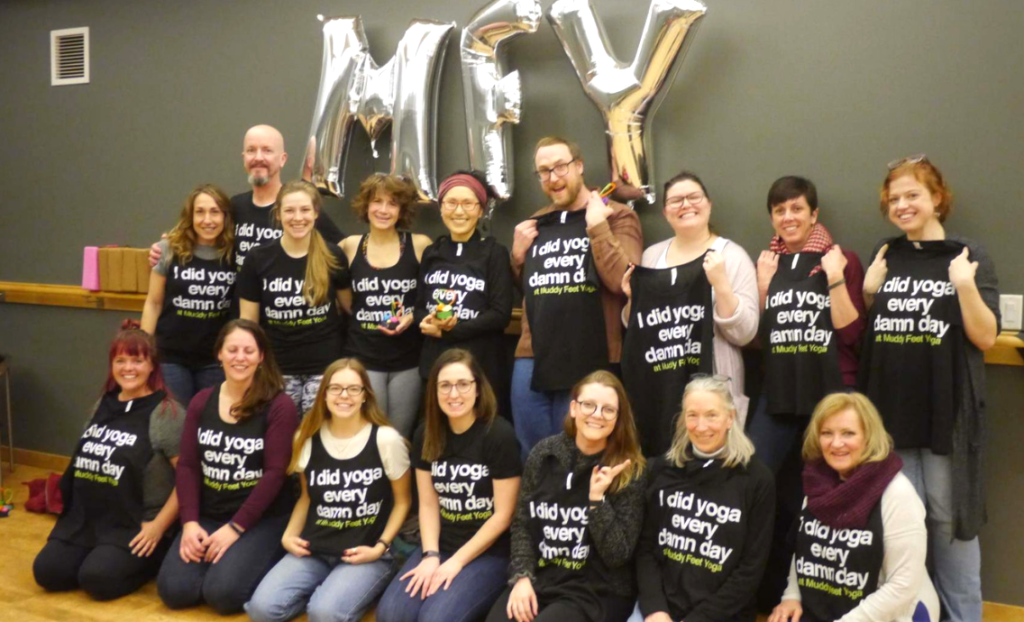 ---
I'm SO IN! Where do I sign up?
Come stop by the studio anytime before we lock up the doors on Saturday, February 1st! (roughly 11:00 AM). We will have a sign-up sheet at the desk and will accept cards, checks, or cash.
Yogis, this is going to be a blast!
Do this for you. Commit to yourself, your practice, and your yoga community this February. Resist the urge to bury your potential under excuses. We ALL have excuses for why NOT to complete a challenge like this. But maybe… what if… this is your chance to really show yourself what you're capable of? It's not about pushing the limits and going to extremes, it's about consistency and dedication.

Let's do this. Together.
#29in29MFY #YogaEveryDamnDay

– The MFY Crew

*The $20 entry fee does not cover the cost of studio classes. Memberships, punches, and drop-in charges still apply.