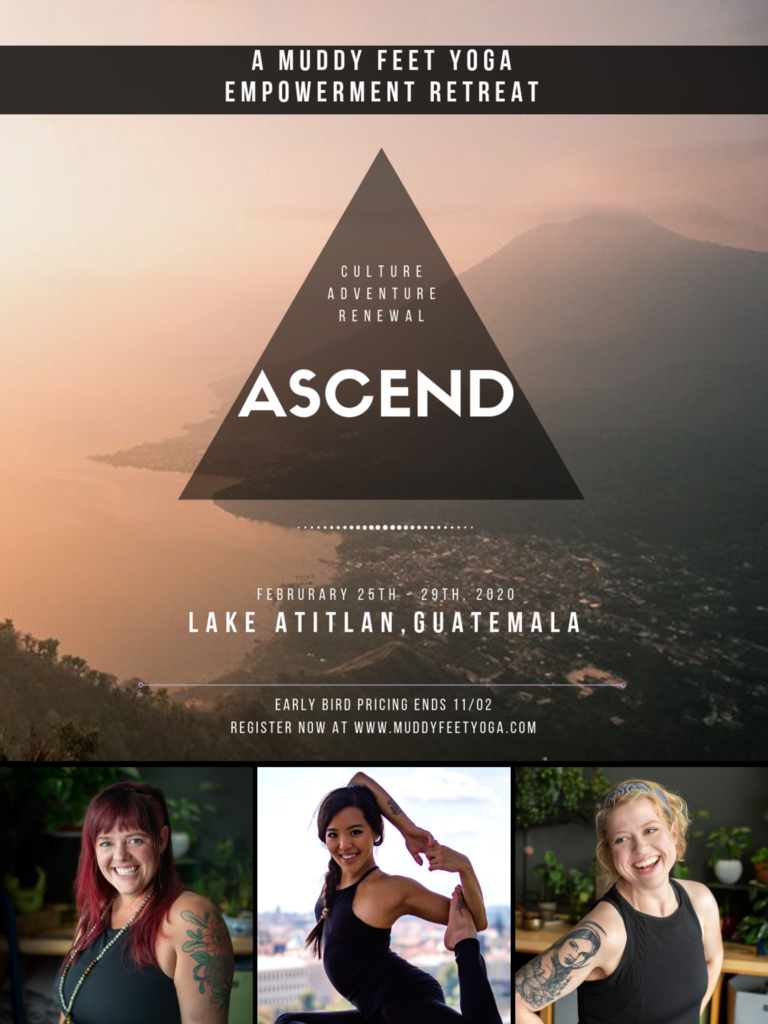 Join world traveler and yoga instructor Ali Ozaki and Muddy Feet Yoga in GUATEMALA! Ascend beyond your personal barriers into a truly empowering experience.
We are ecstatic to be partnering with Ali, a previous MFY yoga teacher who completed her 200hr YTT with Megan.  A seasoned traveler, Ali has taken and taught yoga classes in over 30 countries including Jordan, Myanmar, Indonesia, Dubai, Brazil, Vietnam, and Spain. She is known for her magnetic personality, creative sequences, and spontaneity in teaching. Ali is so excited to spend time with her favorite yogis in a faraway place and make beautiful memories! 
 ASCEND
A MUDDY FEET YOGA
EMPOWERMENT RETREAT
 Doron Yoga & Zen Center
Lake Atitlan, Guatemala
Tuesday, February 25th – Saturday, February 29th, 2020

Surrounded by volcanoes, Lake Atitlan is special due to its breathtaking beauty and Mayan cultural history. Personal empowerment doesn't come easy; we get there by moving through struggle, by surrounding ourselves with like-minded individuals through delicious food, and by embracing the unknown through the adventure of a lifetime!
What's Included:
All Yoga and Workshops in beautiful glass shala
All Lodging in brand new rooms, all with panoramic views of Lake Atitlan
All homemade from scratch meals, smoothies, snacks, tea, juices, coffee (using fruits and vegetables grown in their garden)
Boat Trip to visit local villages and immerse in Mayan culture
Homemade dessert night
Bonfire Celebration
Sunrise Hike to Volcano Viewpoint (easy)
Optional intermediate hike to a private swimming spot
The serene private beach of Lake Atitlan on property
Free time to explore the charming towns around the lake
On-site available travel assistant (Ali Ozaki!)
A taste of sunshine during the cold winter months with quality people
Other Bonuses Available (extra fees):
Massages on-site
Temazcal: traditional Maya sweat lodge/natural sauna
Souvenirs
Extra nights at the retreat center before or after (contact Ali)

Pricing:
The prices below reflect two options: single (private) and double (shared room) occupancy. The pricing is lowered if you choose to have a roommate. There is no discount for sharing a bed.
Early Bird Pricing – Ends 11/22
Single occupancy at $2300
Double occupancy at $1900
FAQ: Frequently Asked Questions
We've rounded up some helpful information as you plan your trip to Guatemala! If you have any additional questions, please do not hesitate to reach out to us by commenting below, emailing [email protected], or chat with us at the studio! We're here for you!
What airport is closest to the Doron Zen and Yoga center?
The nearest airport to the center is GUA, Aurora International Airport which is located in
Guatemala City. We recommend booking a flight that lands no later than 3 PM on the day of
February 25th or arriving early and staying in Guatemala City the night before (or even a few days!) to enjoy more time in Guatemala. Please contact Ali Ozaki if you need assistance with planning.
The program schedule ends after breakfast on our final day. We recommend booking a
return flight no earlier than 2pm on the last day. Of course, if there is availability, you can plan on staying a few more days! 
What should I pack?
there' no Comfortable yoga clothes
Warm clothes: The highlands of Guatemala are beautiful, but it does get chilly (low 60s) at night and early in the morning, so please pack extra layers to keep you warm
Swimsuit for the lake, river, and waterfall
Yoga Mat
Sun hat, sunglasses and sunscreen, and mosquito/bug repellant – the best type is Picaridin which can be found at REI
Flip-flops or sandals/ simple light shoes easy to take on and off
Gym shoes or hiking shoes (no need to buy hardcore hiking shoes)
Water bottle, which you can refill at the retreat center
Sealable thermos flask for your morning tea/coffee
Earplugs and eye mask (useful when traveling or sharing a room);
A torch/headlamp for a sunrise hike
Plug adapters – Guatemala uses 110V with a two-prong plug
Grapefruit seed extract is recommended for digestion – take it from the moment you leave home – Daily maintenance of 7-8 drops in water or juice will do
Toiletries (try to bring biodegradable such as Dr. Bronners)
External battery pack
Passport (make a copy as well)
Consider helping the community by bringing school supplies or easy English books – the center will distribute them
Full laundry service is available on site; there is no need to bring detergent
Passports and Visas
You do not need a visa if you are a US citizen.  If you have never applied for a passport, allow for 6-8 weeks for normal processing time (2-3 weeks for an additional fee, 8 days at an agency).  
Your passport must be valid for at least six months from your date of entry into Guatemala (aka your passport cannot expire before Aug 29, 2020). 
Apply for a passport at https://travel.state.gov/content/travel/en/passports/need-passport.html
A few places you can apply for a passport in the Iowa City area (more can be found online):
| | | | | | |
| --- | --- | --- | --- | --- | --- |
| Facility Name | Street Address | City | State | ZIP Code | Public Phone |
| IOWA CITY POST OFFICE | 925 HIGHWAY 6E | IOWA CITY | IA | 52240 | 3193541560 |
| HILLS POST OFFICE | 14 EAST AVE | HILLS | IA | 52235 | 3196792201 |
| CEDAR COUNTY RECORDERS OFFICE | 400 CEDAR ST. | TIPTON | IA | 52772 | 5638862230 |
| MOUNT VERNON IOWA POST OFFICE | 124 2ND STREET SW | MOUNT VERNON | IA | 52314 | 3198956123 |
| LINN COUNTY RECORDER | 935 2ND STREET SW | CEDAR RAPIDS | IA | 52404 | 3198925420 |
| CEDAR RAPIDS MAIN POST OFFICE | 615 6TH AVE SE | CEDAR RAPIDS | IA | 52401 | 3193995560 |
Is Guatemala safe to visit? What vaccinations do I need?
Lake Atitlan is a very safe place to visit, and a great opportunity for those who have never traveled outside of the country.
The travel clinic in your community (for Iowa City yogis – the University of Iowa is extremely easy to book appointments and they are super helpful and informative) is a great place to consult on vaccines you should get before traveling to Guatemala. You may consider Hepatitis A and Typhoid vaccines (contracted through food or water). Malaria is not a risk around the lake.
Zika may be a risk in Guatemala – consider taking preventative measures to avoid mosquito bites if you are planning to become or are already pregnant. In the event of a medical emergency, quality clinics and hospitals are available around the lake.
What kind of cash/credit cards should I bring?
Guatemala is largely a cash-based society and very few places take credit cards. US dollars are not commonly accepted by the businesses around the lake. Money can be exchanged at the airport with your debit card (your bank may charge a small fee) or by exchanging USD at a currency exchange booth. You can also exchange money before you depart at your local bank. Around the lake, currency exchange and ATMs are available in the towns of San Pedro and Panajachel.
Will I have cell phone coverage and WiFi access on the retreat?
To make international and/or local calls, or use cellular data, you will need to buy a Guatemala SIM card at the airport. Your current SIM card will be switched out (I tape it to the back of my phone inside my case to make sure I don't lose it). Your phone needs to be unlocked or paid for in full – you can call your service provider to check. Wifi access is available at the retreat. If you bring a laptop, your Guatemalan SIM card can be used as a hotspot via your phone.
Do I need to be a member at the Muddy Feet Yoga studio to attend the retreat?
No! We have always lived by the philosophy that Yoga is for Everyone – this is no exception. This retreat is for anyone new to yoga to advanced yogis (our classes are All Levels with both modifications and challenges), and those who seek an eye-opening/jaw-dropping adventure.
What's your cancellation policy?
We hope you don't, but know the unexpected can happen. In case of a guest cancellation, you will receive a refund, but $700 will be non-refundable.
Who can I contact for help on travel?
Please contact your co-yoga host/travel assistant Ali Ozaki at her cell phone/Whatsapp +18474007851 anytime, 24/7. Texting is the best way to reach her. After registering for both the MFY yoga program and booking your flight, please send her your confirmation at [email protected] as well as [email protected]