Greetings, interwebz! 😀
Yesterday marked one month in the studio, and WOW has it been a roller-coaster ride of (mostly) awesome. To be honest, (Emily speaking here) it's been a blur! It seems like one moment Megan, Jenn, and I were saying "Do you think we can do this? Maybe we should put in an offer" and the next moment… we're here running a yoga studio. A little insane? Maybe. A lot of amazing? YES.
We love our new home and wanted to kick off November by letting you know what we've been up to! What's been great, what's been sorta shitty, and what we're looking forward to. We want to be open and transparent with all of you. We may own the studio on paper, but our students and supporters are the lifeblood, the heartbeat, the ENERGY that brings it all together. We obviously big-puffy-heart-eye-emoji all of you.
Okay, let's get into it!
Ch-ch-ch-changes!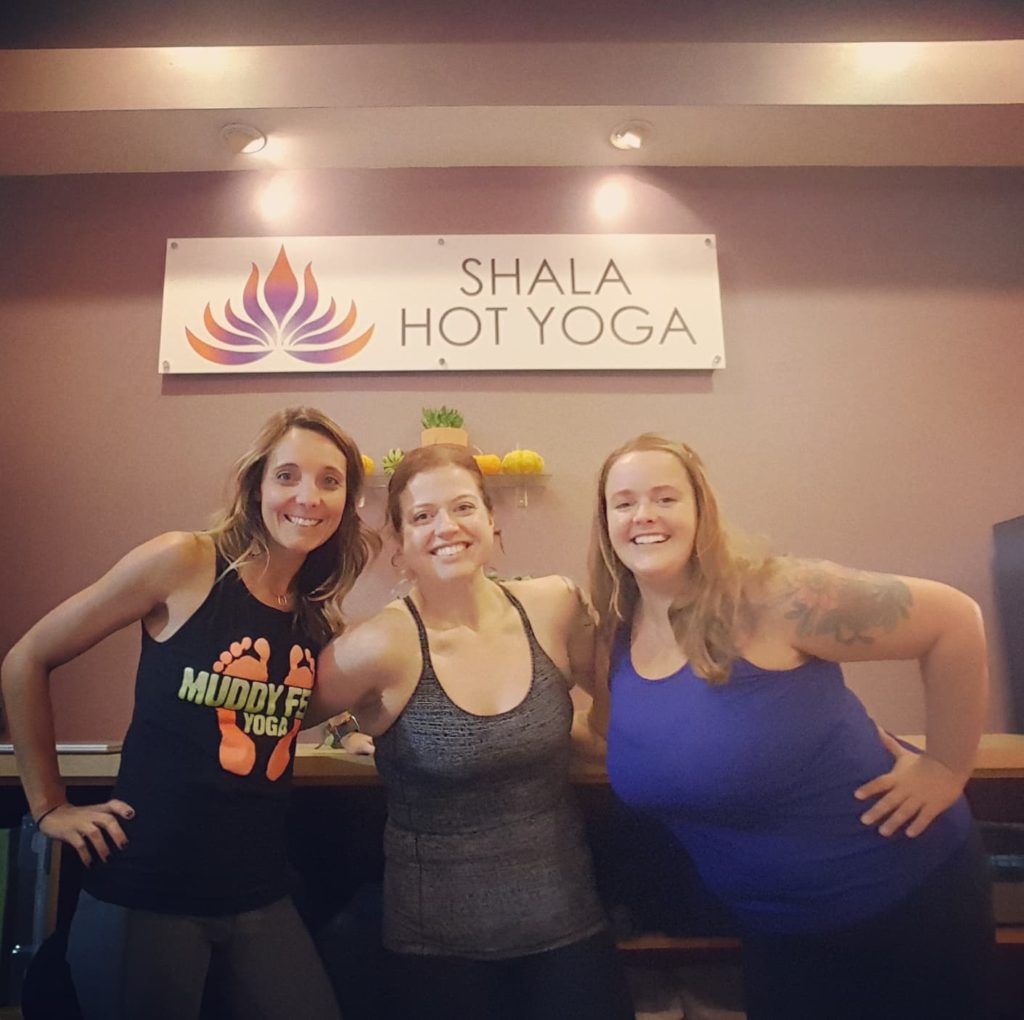 The first thing we tackled on day one was deep cleaning the studio. We flew into get-shit-done mode and were instantly wiping down walls, dusting off the furniture, pulling out gunk from drains (I'll spare you the pictures), cleaning out the refrigerator vent, polishing the mirrors, organizing the front desk and back storage area, and just generally breathing new life into ALL THE THINGS. We all know this was Jenn's (who's also a professional organizer) both favorite and least favorite day. ?
After the initial "attack everything" day, Project Glow Up began! Our priorities were: get a new sign design and installed, change the paint to a more neutral base, assess the cork floors, change out the light fixtures, replace the burnt-out bulbs, remove the vinyl decals from the storefront, refinish the benches and bring some life (plants) into the space. The sign was a huge project, but thanks to our new neighbor Allan at 2 Dogs Pub who suggested we remove and install it ourselves, we saved a BUNCH of money! Go, Team!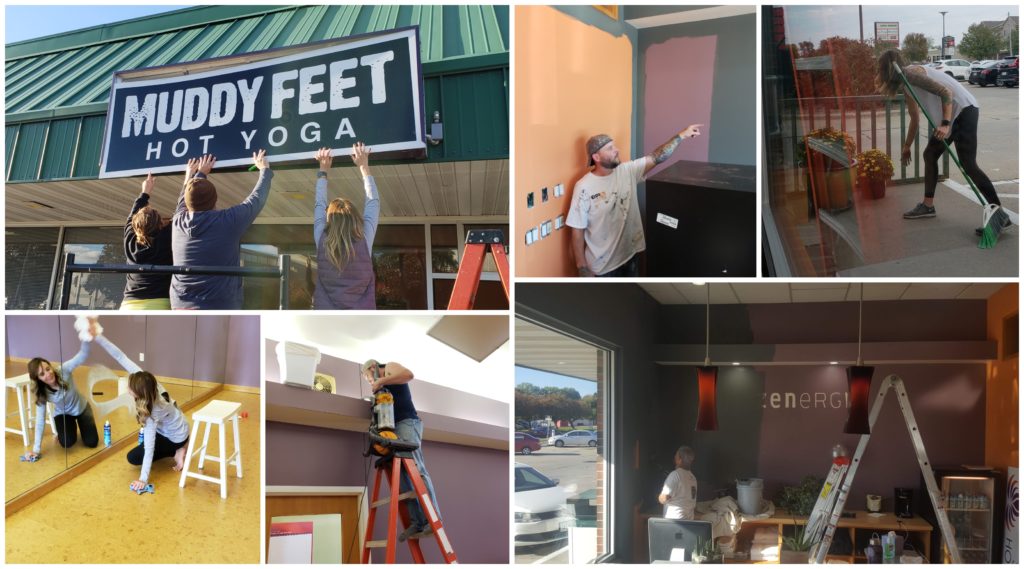 Along with bringing new plants in, we now have COFFEE! Every morning we offer up some fresh brew (usually from JavaHouse next door) in the cutest little to-go cups you've ever seen. Perfect for a little pick-me-up on the way home.
The stuff that really… sucked.
The Great Software Debacle
Oh my lordy. We shall never speak of the word "Vagaro" again. Long story short, we switched away from the MindBody system (it's not user-friendly and extremely expensive for what it offers) to Vagaro. One day before the open house, we realized it was not up to our standards. So, everything had to be torn down and built up again in our new (and final) software choice, Karmasoft. I may or may not have shed a few tears over the six panicked hours and the weeks that followed. THANKFULLY, everything seems to be up and going! Punches were rolled over, coupon codes are being applied, waivers are being signed, and the new schedule is up on the website. I personally cannot thank everyone enough for their patience on this. It was a BEAST to tackle, but I think we're on solid ground! Our schedule and packages are all updated. Go click!
Cutting the teachers
Early in the purchasing/negotiation process, it was clear that we weren't going to be able to keep the studio's teachers around. We, along with our business attorney and banker, saw a few red flags in Shala's financials and procedures. I'd like to say it was the hardest thing we've ever had to do, but honestly, Megan shouldered the task of informing the teachers which was not an easy task. Financially, we had to consider the facts that 1) our rent was going up, 2) None of us are made of money, meaning we took out a sizeable loan to purchase the studio, and 3) We need to keep the lights on both at the studio and in our homes. Most importantly, Legally, things were amiss. Yoga studios have, historically, paid teachers as independent contractors, but required them to behave in duties as employees. This common practice is, unbeknownst to most studio owners, not actually legal! Learn more about independent contractor laws here: https://www.irs.gov/small-businesses-self-employed/independent-contractor-self-employed-or-employee
So, we had to square that up.
Will we ever bring the teachers back? It's possible! We'd love to be able to actually hire teachers as real employees. But we have to make the studio more profitable to afford that big step. In the meantime, all Shala teachers were invited to keep their ties to the studio by receiving free/discounted classes, teaching the Community Classes* (as contractors), holding workshops! We're SO excited to already have Ali Ozaki on the schedule for her Vinyo & Vinyasa workshop in December. Are you coming? ?
We know it isn't our responsibility to keep the public informed of our finances and explain every decision. But this was a big one. In our hearts, we're doing what's right for the big-picture success of the studio. We want to see it THRIVE and continue to bring good people together. The majority of the teachers and students understood and have shown us so much support, which we are extremely thankful for.
*Speaking about Community Classes, we will now be hosting these classes as cash-only. This way, our guest instructors can be paid according to the IRS's standards for independent contractors. If you forget your cash, no worries — 2 Dogs Pub has an ATM. And really good food! 😉
The stuff that really ROCKED
Getting a solid schedule in place! We heard you all loud and clear: more consistency with the schedule. You got it. We're offering early AM Hot 26 classes, flow classes in the mid-morning and a mix of everything in the evening and on the weekends. One of my personal favorites is Megan's 75-minute Hot Power class on Sundays at 5:45 PM. That class has an incredible energy that you don't want to miss! We hope to add more classes as we get a feel for what the wants and needs are as we grow and the season changes. I'm getting certified in Barre this weekend, so keep your eyes peeled for that addition!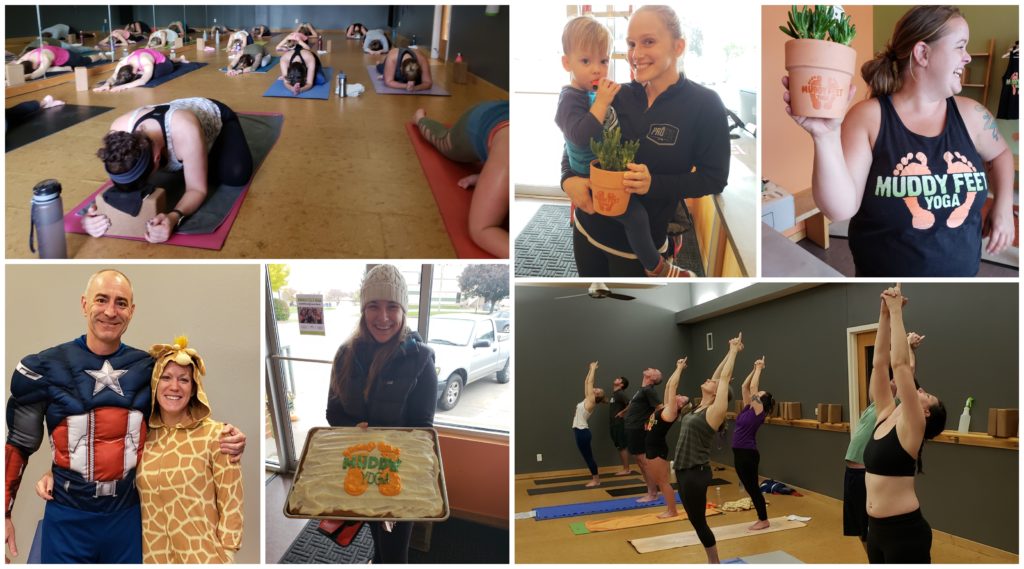 All of you. Every email, every DM, every Facebook comment, every in-person high-five and conversation… wow. You can feel the positive energy when you walk into the studio, and that's all thanks to our students. They show up for themselves, but also for us. They offer us valuable feedback, words of encouragement, and true kindness. We want Muddy Feet Yoga to be a home for all of us, a place to be our authentic selves – pushing to be greater. We feel that community/family atmosphere growing and hope you can feel it, too!
Lastly…
Phew! If you've made it this far, you're a rockstar. Don't worry, most of our blog posts will be short, sweet, and snappy.
We are running a special for our OGs! As we've been simplifying and cleaning up around here, we thought we'd like to offer you, our fabulous and dedicated Shala/Zenergi members, the opportunity to get "grandfathered" in, as it were, with your same old pricing.
If you have ever been a member (read: ever had a punch pass? ever had a month unlimited? ever been an Autopay client?) under Shala or Zenergi ownership, stop into the studio now through December 31st, 2018, to lock in your autopay price of $85 per month. (This price includes a 6-month contract.) We're calling this discount a "loyalty reward," as it aims to thank you for being with us and staying with us. If you sign up for this now, you will keep this price locked in until you cancel your membership. New clients or clients returning to the studio after 12/31/18 will receive full-price for autopay, which is $99 per month. THANK YOU for being a member! This offer isn't available online, so please stop into the studio to redeem your discount!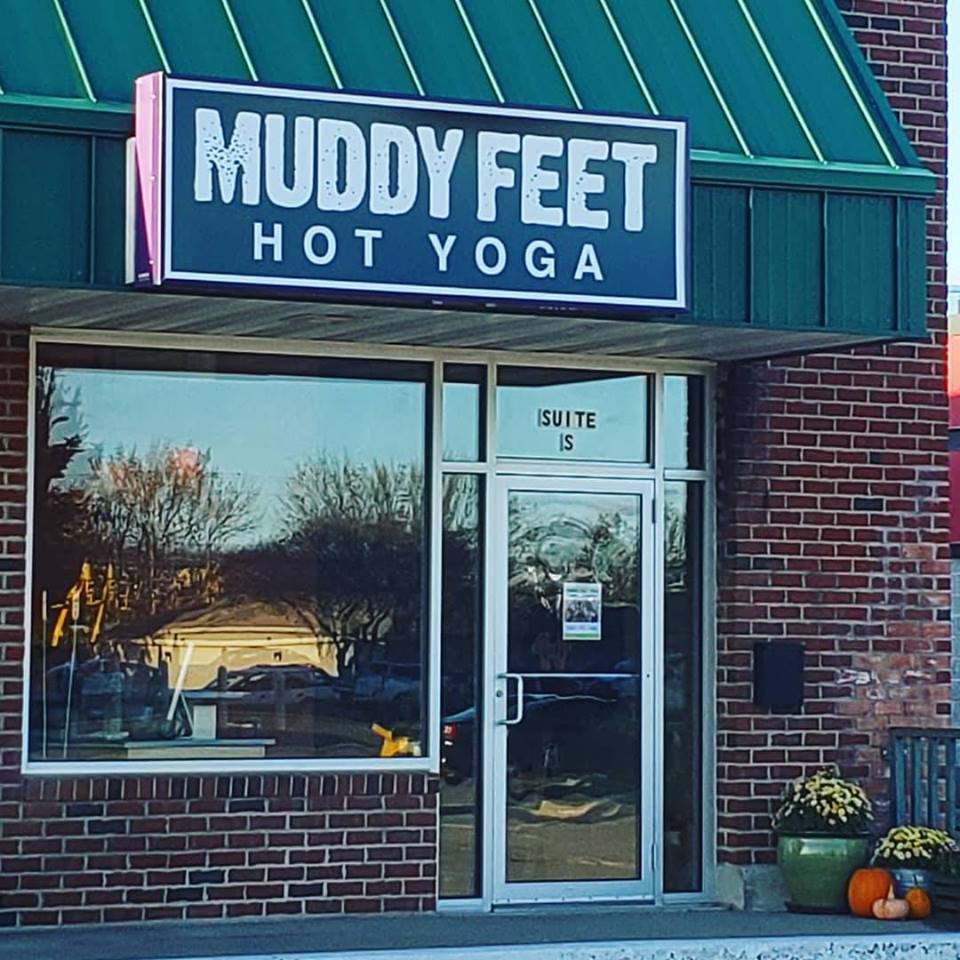 I know we've said it a million times, but it's worth repeating a million more: thank you. We love our new home and this amazing community. Keep your eyes peeled for barre classes popping up on the schedule, new artwork, workshops, yoga teacher training, and our grand-reopening party (tentatively in January)! We are looking forward to a long and fun-filled journey at Muddy Feet Yoga. Come see us, soon! <3